Memorial Day 2020 Event
On Memorial Day, Monday, May 25, 2020, the Private Silas Gore Camp #141 of the Department of Pennsylvania of the Sons of Union Veterans will hold an event on the green at East Smithfield. The members of the post will "stand guard" over the East Smithfield monument and the gravestones of Civil War soldiers in the adjacent cemetery in an effort to honor the sacrifice of all those mortal soles who so bravely left their hearths and homes to serve our country.
The event will be only an hour in duration, from 2 – 3 PM, immediately followed by the Gore Camp members participating in the nationwide moment of silence for all fallen veterans.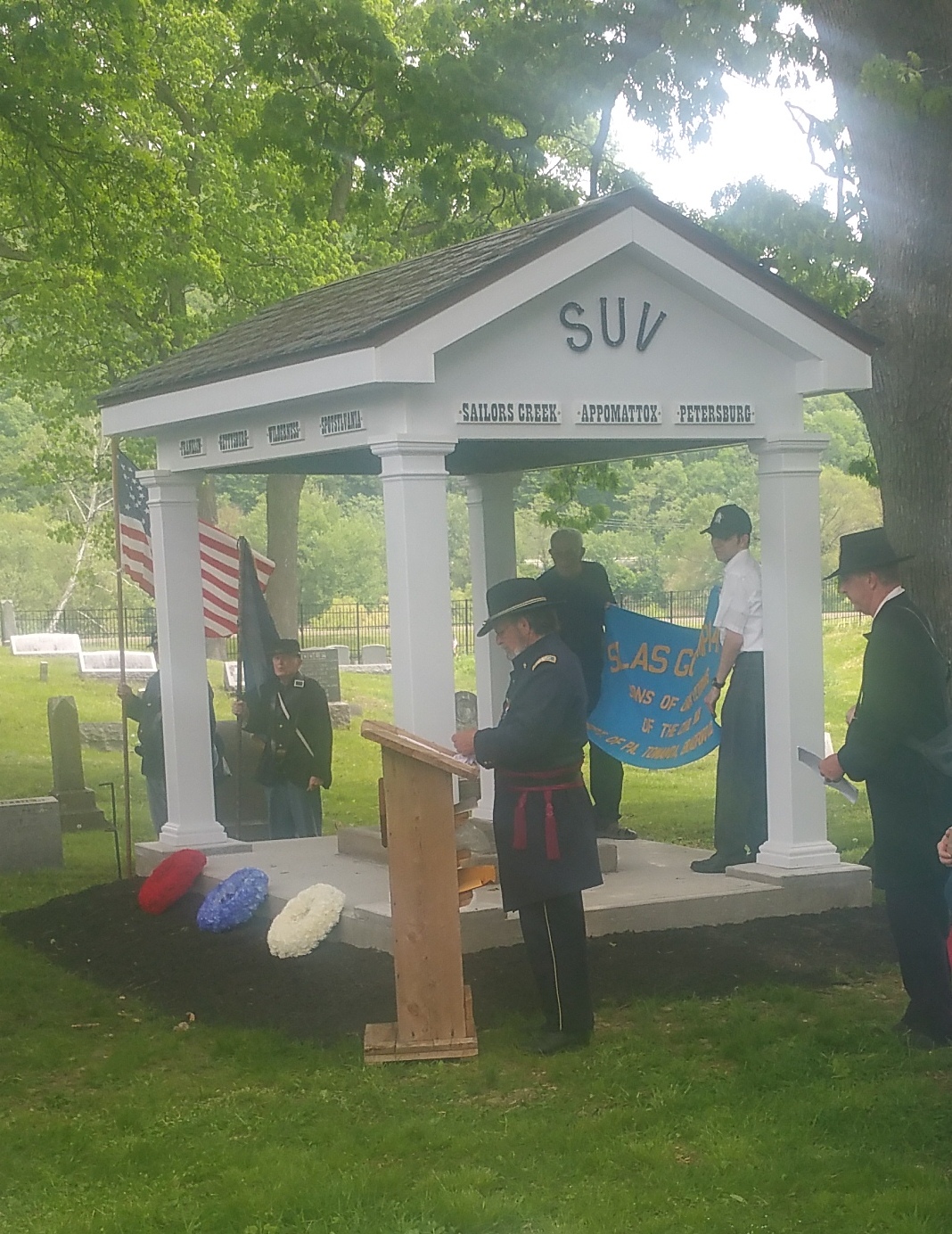 Rededication of the Riverside Cemetery Tablet
"This tablet was here placed on the thirtieth (30) day of May 1868 by the members of post No. 68 Dept. of Pennsylvania, Grand Army of the Republic, To show their appreciation of and to keep alive in the memory of their descendants, the good deeds of their companions in arms who fell during the great rebellion."
The Private Silas Gore Camp #141 constructed a protective pavilion over the Civil War era GAR (Grand Army of the Republic) stone tablet in Riverside Cemetery, Towanda, and conducted a historcal re-dedication on the 150th anniversary of its original placement.
our mission
The Private Silas Gore Camp #141
has dedicated itself to caring for all things Civil War related
that are within our grasp. To that extent, we adhere to
the Sons of Union Veterans of the Civil War's guidelines in that we:
(1) perpetuate the memory of the Grand Army of the Republic and of the men who saved the Union in 1861 to 1865;
(2) assist in every practicable way in preserving, and making available for research,
documents and records pertaining to the Grand Army of the Republic and its members;
(3) cooperate in honoring all those who have served our country patriotically in any war;
(4) teach patriotism, the duties of citizenship, the true history of our country, and the love and honor of our flag;
(5) oppose every tendency or movement that would weaken loyalty to, destroy, or impair our constitutional Union; and
(6) inculcate and broadly sustain the American principles of representative government, equal rights, and impartial justice for all.
(from National SUVCW)
Recent Progress at Riverside Cemetery